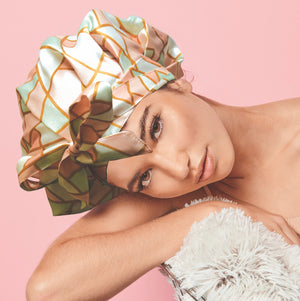 Adjustable Satin Bonnet
Sale price Price $9.99 Regular price
Nighttime friction defense: Friction is the leading cause of frizz. Silky smooth satin prevents friction while allowing your hair to retain its moisture while you sleep. The Adama Adjustable Satin Bonnet has double sided satin allows you to sleep comfortably, without worrying about your bonnet sliding off in the middle of the night mid-toss or turn.
Premium protection and style: We gave the classic satin bonnet a makeover, and a star was born! The Adjustable Satin Bonnet is a crowd favorite, offering premium protection and style for a multitude of hair lengths, textures, and styles.
Easy care, easy adjustment: Our Satin Bonnet, with adjustable comfortable straps for security and comfort, has a stylish blue design and is machine washable. One size fits most.
At home or town: Offering premium protection and fashion for a multitude of hair lengths, textures, and styles, the Adjustable Satin Bonnet is the perfect piece to conserve your hairstyle, day or night!
The Healthy Hair Movement: We believe in celebrating and protecting the integrity of our hair, no matter how we choose to wear it. Our satin accessories are designed to keep your crowning glory beautiful.