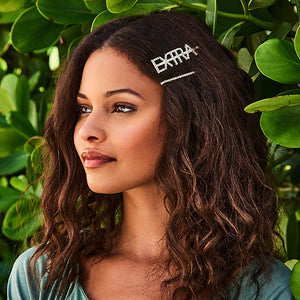 Bling Expression Barrettes
Sale price Price $6.99 Regular price
Clasps made of high-quality metal with gold plating on the clip surface mean durability to enhance the useability and lifetime of clips and make haircare easy, so you always look your best

Each pack come with 2 barrettes with edgy words and bright rhinestones, one that says "Extra" and one that says "Drip", and two glittering and stylish rhinestone-covered barrettes

Barrettes are made to work well for everyone and all hair types, especially types like thick, coarse, curly, or natural hair, and as an accent in any kind of styling whether an up-do, down with one clip, or anything in between!

For styling results that last all day, check out the best barrettes that provide slip-proof grip to simplify hair care and accessory use. You can trust your accessories to stay put and look great without checking the mirror.